News
Verdi teams up with Anexis eSports!
veröffentlicht am 29.01.2013 - 19:02 Uhr geschrieben von quiZ
0
Today, we are once again proud to present a new pick up.
Another player have seen the light from the Anexis colours, this time it's a StarCraft II player!
Artem 'VERDI' Avramenko, a professional Protoss player from Russia. A guy with ambitions and with metal in his backpack!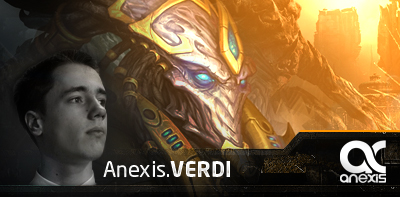 Artem started out by playing WarCraft III on a high level, and made the switch to StarCraft II after several now professional players also did.
As stated above Verdi is a professional SC2 player and he has achievements like this with him :

3rd Kalashnikov Cup Online Qualifier 2010
Top 4 x2 Moscow Opens
2nd ASUS Spring Cup 2010
2nd ESWC Russia 2010
2nd eSahara Cup
3rd ieSF 2012 World Championships
Round 16 IEM Katowice
Mark "Stylie" Bakker wanted to say the following about the new player:
"I'm very delighted with the signing of Artem. He is a good player who is getting better everyday. Artem will focus on the upcoming expansion set Hearth of the Swarm. He is playing the BETA ladder and is currently in the top 20 in the grandmaster league. Artem will not be the only StarCraft II player for Anexis eSports e.V.. We are keeping our eyes open for more talented players like Artem. I want to thank Anexis eSports e.V. and the sponsors, Ficken Liquors and Razer, for their support to make this possible."
M
ark 'Stylie' Bakker, StarCraft II Team Manager
Artem 'VERDI' Avramenko had the following to say about him joined Anexis:
"I'm very happy to join such a professional organization as Anexis eSports e.V ! I think it's my step into professional gaming , which I'm preparing to join as soon as possible. Anexis is giving the best support for their players , and it's important to get a stable home , because I am going to do my best with full-time StarCraft II trainings . As Wings of Liberty tournaments soon will end, I've started my hots trainings and I wish to do my best in the upcoming tournaments and get good results, and of course I will allways try to defend the Anexis eSports tag !"
Artem 'VERDI' Avramenko
Anexis eSports e.V is growing very fast these days, with currently a TOP 8 CS:GO team, a League of Legends team who sadly haven't qualified for the Championship Series yet, and now another professional player but in our new StarCraft II team. 
Joining one of the most important eSports titles is a huge step, and we are confident that Artem will do a great job!
Toni 'anakim' Milicevic said the following upon Artem joining:
"With 2013 already kicking in, we are thrilled to announce that we will be venturing into StarCraft II scene, as one of the biggest eSports title out there. Our new addition Artem "VERDI" Avramenko is one of the strongest prospects in the scene and he will be representing the Anexis eSports brand and our sponsors in his future endeavours. It's a great privilege to be a part of the highly rated SC2 scene and we hope that it will last for a long time. Make sure you stay tuned for more huge news from our headquarters that will follow soon. We would like to use this chance to thank our loyal sponsors in the shape of Razer, Ficken Liquors, ESET Internet Security, FSHost, GamersUniform, EloHell, Mr.ZAP."
Toni 'anakim' Milicevic, Business Developement Manager
Our new StarCraft II team is currently:


Artem 'VERDI' Avramenko
Be sure to follow VERDI on Twitter and TwitchTV!
www.twitter.com/anexisverdi
www.twitch.tv/anexisverdi
Kommentare
Angezeigt 1-0 von 0 Einträgen